Diversification of roles & people is what makes creating a game fun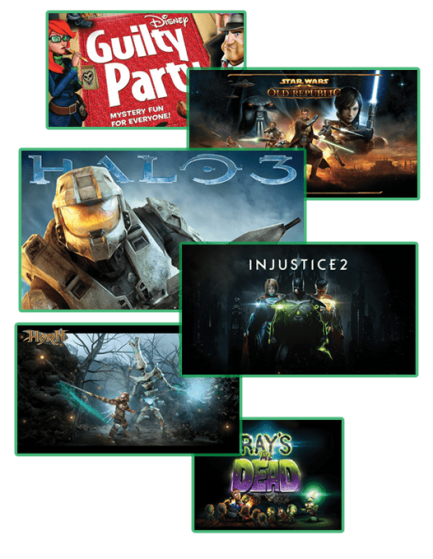 At NoiseFloor we pride ourselves on being able to offer our clients a wide variety of services at an expert level. We are multifaceted and understand the versatility of creating sounds for different platforms. We have worked on some of the biggest titles for 20+ years, providing a variety of sound services for any and all of our client needs in the Video Game genre.
We understand the art of asset management, in game sound design, implementation, cinematic sound design, dialog recording and editing, localization, original music composition and middleware. We are uniquely qualified to step into any audio role that is required of us and produce exceptional results.
Activision, Bungie, Microsoft Game Studios, Disney Interactive and independent game companies such as Phosphor Games, Ragtag are just a few of the game developers we have had the pleasure of working with.
We will take your sound to the next level and are ready for any challenge.
The Games
Independant – 0 A.D.
Disney – Marvel – Avengers Initiative
Bungie – Destiny
Bungie – Destiny 2
Bungie – Destiny 2: Beyond Light
Bungie – Destiny 2: Curse of Osiris
Bungie – Destiny 2: Forsaken
Bungie – Destiny 2: Shadowkeep
Bungie – Destiny 2: Warmind
Bungie – Destiny: Rise of Iron
Bungie – Destiny: The Taken King
Wideload Games – Guilty Party
Wideload Games – Hail to the Chimp
Bungie – Halo
Bungie – Halo 2
Bungie – Halo 3
Bungie – Halo 3 ODST
Bungie – Halo Reach
Scientific Games – Heidis Bier Haus
Phosphor Games – Horn
Warner Brothers – Injustice
Warner Brothers – Injustice 2
Bungie – Oni
Ragtag – Ray's the Dead
Bioware – Star Wars: The Old Republic
Wideload Games – Stubbs the Zombie
Synapse Games – Teenage Mutant Turtle Mutant Madness
Telltale – Walking Dead: Season One
Telltale – Walking Dead: Survival Instinct
Scientific Games – Willy Wonka Everlasting Gobstopper