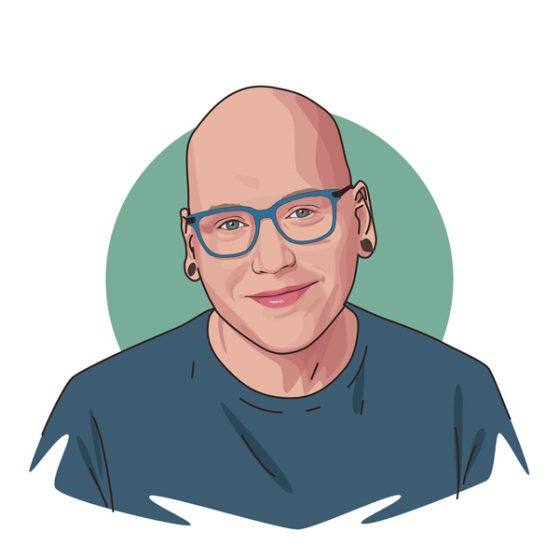 Music Composer
Devin Delaney is the perpetually working, head composer of Noisefloor's music department. Devin's composition suite is often a reflection of his effervescent personality. The walls are lined with guitars and basses, amps are tucked in every corner, there's an armada of synths ready to take sail, a towering collection of pop culture swag, and then, there's Devin, often there fleshing out out a new piece or chasing some impossible deadline. As a creative, Devin brings a unique blend of versatile musicianship, technical skill, artistic openness, steadfast diligence, as well as a deep emotional intelligence as a storyteller.
Devin has composed original music for a plethora of branded content. Ranging from wide sweeping advertising campaigns by United Healthcare, Ego Power+, Empower Retirement, Network Health, Brother, and Rice Krispie Treats to daring digital content for Fireball Whiskey, AHA! Sparkling Water, Kohler, Hefty, and Procter & Gamble. Devin, an avid gamer, used his passion to fuel the interactive scores for retro-shredding, Teenage Mutant Ninja Turtles: Mutant Madness and the cinematic, Avengers Initiative Hulk and Captain America. For Devin, musical storytelling and collaboration are the most engaging parts of being a composer. So naturally narrative content has been a source of inspiration. He has crafted soundtracks for the features, The Moleman of Belmont Avenue and The Law of Moises as well an abundance of shorts including the award winning Miriam Goes to Mars, Scutly, and The Other Side of 25. Devin's scores for documentaries are a microcosm of his striking versatility: from the guitar driven post-rock of the Emmy winning, Warriors to Lourdes, to the modern synth and piano based minimalism of A Tiny Ripple of Hope, to American Folk meets orchestral approach of Reeves: A Place for Music, and the rebellious, psychedelic meets Latinx sound of F*** Your Hair… They all show that no matter the sonic palette, the story always shines. He has additionally contributed music and songs to films such as The Girl on the Third Floor, When Jeff Tried to Save the World, and Boycott '69. As the world binges more episodic content, Devin has created themes and fresh tracks for shows such as Wahmayaya, ChurchEd, Geek Lounge, and The Jamz. Devin is no stranger to new media having created music for immersive experiences such as the 360 Chicago Observation Deck, mini-games for medical trade shows, and musically directed the Detour app's Chicago tours.
His formative years were spent as a punk-rock loving honor student, who constantly tried to shed the prep school blazer and jump into a mosh pit at the Metro. He picked up the guitar at the age of 9 and bass soon after. By 17, Devin and his pop punk group had put out a full length record, which happened to begin his journey into recorded music. Being the youngest in his family and a bit artsy, Devin, took a lot of guff from his siblings. His older brother's favorite burn was to tell Devin, to "Go write a song about it." Devin took that advice quite literally and graduated Magna Cum Laude from Berklee College of Music with a double major in Songwriting and Music Production & Engineering. Devin started his journey, like many, interning at post houses and eventually was introduced to Noisefloor owner Jamie Vanadia. They started creating original music at Noisefloor in 2010, and haven't slowed down! Outside of work, you can often find Devin producing tracks or playing shows at Chicago venues with his post punk band, Eighties Slang. He lives in Chicago's Westside with his googly-eyed Boston Terrier, Eloise (who has been at his side since his first composition gig for Coors Light), a scrappy rescue, Zoya the Destroya and a salty cat named Rocket. Devin is always down to take in a NBA game, anxiously get through scary movie, dive into sprawling RPG, or crack open a juicy IPA.